Tibetan formatting rules#
Introduction#
Current apps for desktop and mobile handle Tibetan script well, and in most cases it's simply necessary to use a correct Tibetan font and things will work as expected.
The following describes the formatting process using the example of the following short Tibetan text.1 Pasting the text into some arbitrary editor might end up with something like: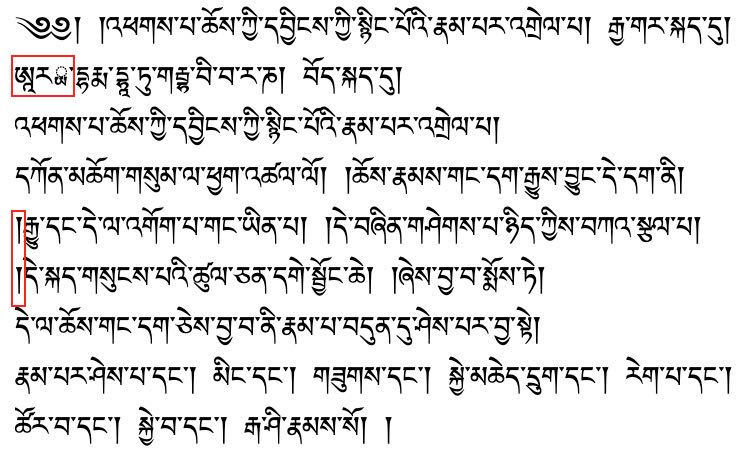 Some problems are marked in red:
there are two shad ། at a beginning of a line, which is forbidden,

the Tibetan font wasn't able to render Ārya (ཨཱརྻ་) correctly. Additionally,

the font size of the header should be smaller
The following chapter shows how to enhance the formatting of our example.
This examples was typeset with Scribus, an excellent open-source type-setting program with good Tibetan support.
Notice:
the headline-part is in smaller font (yig chung)

smaller and larger fonts are aligned at the letter-head (see green line). This usually requires manual correction of the vertical position of either the smaller or larger Tibetan font, since most Tibetan fonts are optimized to mix well with Western text which aligns at the lower letter boundary.

there are no shad ། at the line start.
Basic formatting rules for Tibetan text#